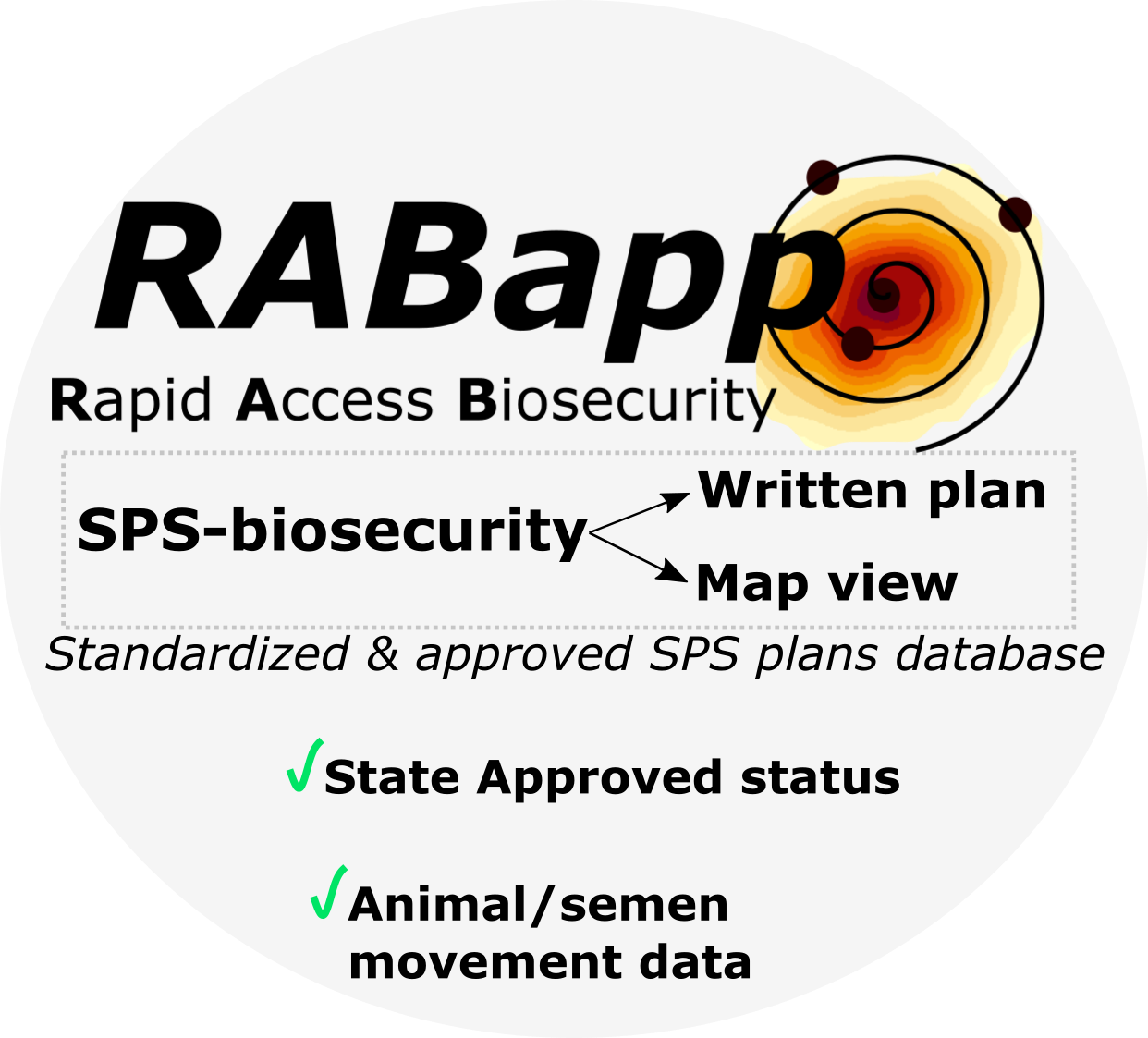 The RABapp™ latest updates: 27-April-2022
- Version 2.4.0 available.
- 3 new states are added.
- 7 new pig-producing companies joined.
The Rapid Access Biosecurity (RAB) app™ standardizes Secure Pork Supply (SPS) biosecurity plans and creates maps to visualize the biosecurity infrastructure of individual farms across multiple states. In each state, the RABapp™ provides the pork producer and Department of Agriculture with rapid access to approved biosecurity plans status to expedite outbreak responses. For more information about SPS Secure Pork Supply please visit the SPS website.
At the NC State College of Veterinary Medicine, the Machado Lab is working with pork producers, state veterinary health officials and practitioners to ensure all stakeholders have rapid access to critical, enhanced SPS biosecurity plans.
Current states utilizing RABapp™: In total 14 State Animal Health Official (SAHO) are currently using the RABapp™ or at final arrangements/agreements to utilize the RABapp™. If you want to join please read more here.
"In Oklahoma, we encourage all swine producers to develop Secure Pork Supply plans specific to their operation regardless of the size or number of hogs they own. To assist producers in developing these enhanced biosecurity plans, Oklahoma utilizes RABapp™, which standardizes the plan to be consistent with participating state SPS planning efforts." Alicia Gorczyca-Southerland DVM, Assistant State Veterinarian, Oklahoma Department of Agriculture, Food and Forestry, Animal Industry Division.
Our Mission: Before foreign animal diseases (FADs) are introduced into disease-free countries such as the U.S., it is vital to catalogue and review biosecurity measures from individual farms throughout the swine industry, prioritize effective biosecurity measures, and integrate this information with animal movement data in a readily accessible and manageable user-friendly database. The RABapp™ database provides rapid access to the status of farm biosecurity plans and helps regulatory agencies harmonize effective response and recovery strategies.
Data Sources: All data sources used for the RABapp™ project are confidential and individual swine producers and pig-producing companies retain data ownership.
Team Members: The Machado Lab belong to the Department of Population Health and Pathobiology in the NC State College of Medicine. The team is working to prepare for and combat endemic swine diseases and help states nationwide build capacity for responding effectively to major biological threats and protecting the U.S. food supply. Contributors include:
Disclaimer: All data used to develop the maps in the RABapp™ are visible only to authorized staff, veterinarians and state officials. This project has been supported by the Machado lab funds. For more information about our data security plan please contact us.
Contact: We welcome question via main email address at machado-lab@ncsu.edu or by phone at (919) 513-0781.
More information about the RABapp™