Please see full list is also available in my Google Scholar
Highlights
Modeling the role of mortality-based response triggers on the effectiveness of African swine fever control strategies
137-Modeling the role of mortality-based response triggers on the effectiveness of African swine fever control strategies--(2021)
Machado, G., Farthing, T., Andraud, M., Lopes, F.P.N., Lanzas, C.
Transboundary and Emerging Diseases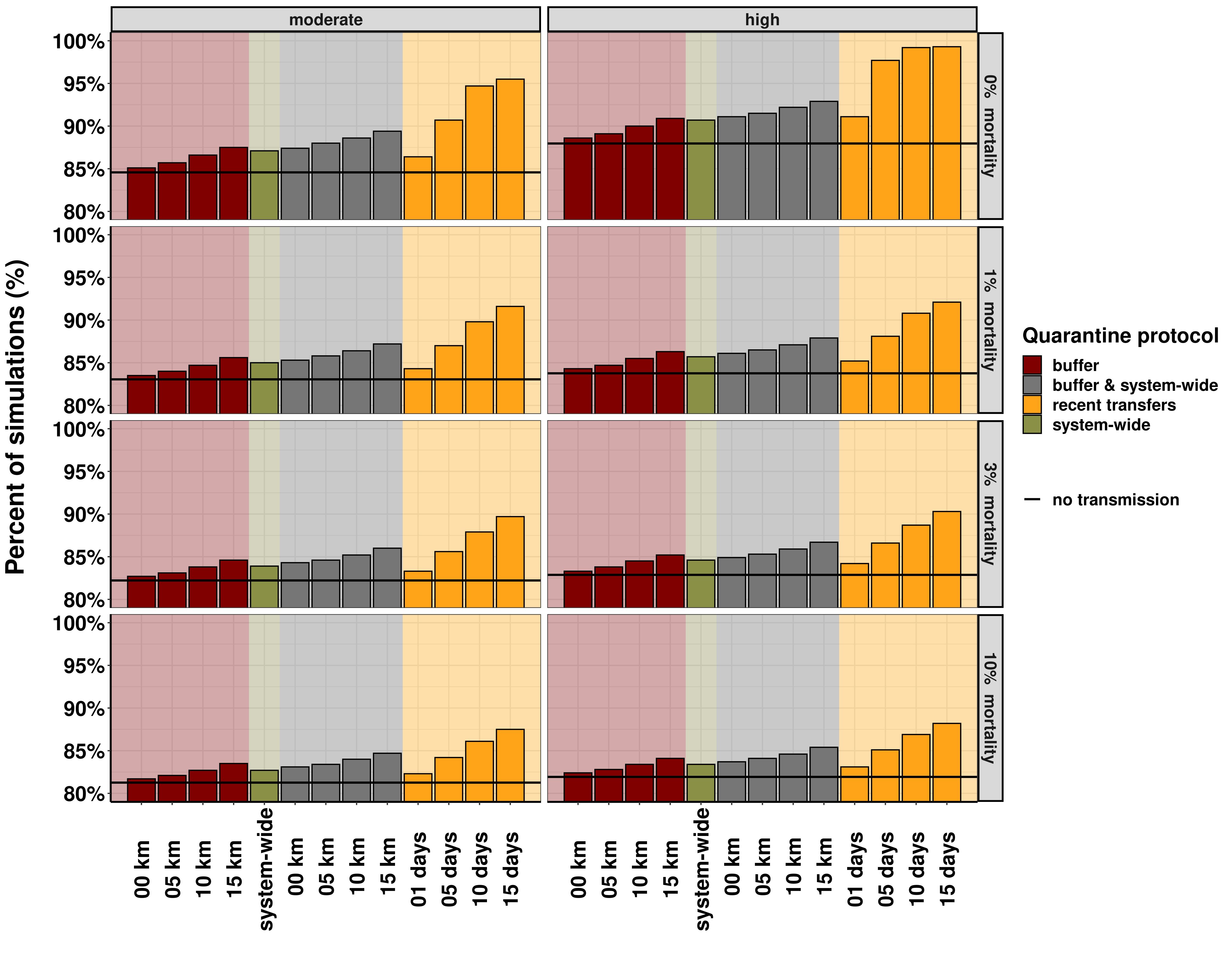 Summary: African swine fever (ASF) is considered the most impactful transboundary swine disease. In the absence of effective vaccines, control strategies are heavily dependent on mass depopulation and movement restrictions. Here we developed a nested multiscale model for the transmission of ASF, combining spatially explicit network model of animal movements with a deterministic compartmental model for the dynamics of two ASF strains within-pixels of 3 km × 3 km, amongst the pig population in one Brazilian state. The model outcomes are epidemic duration, number of secondary infected farms and pigs, and distance of ASF spread. The model also shows the spatial distribution of ASF epidemics. We analyzed quarantine-based control interventions in the context of mortality trigger thresholds for the deployment of control strategies. The mean epidemic duration of a moderately virulent strain was 11.2 days assuming the first infection is detected (best-case scenario) and 15.9 days when detection is triggered at 10 % mortality. For a highly virulent strain, the epidemic duration was 6.5 days and 13.1 days, respectively. The distance from the source to infected locations and the spatial distribution was not dependent on strain virulence. Under the best-case scenario, we projected an average number of infected farms of 23.77 farms and 18.8 farms for the moderate and highly virulent strains, respectively. At 10% mortality-trigger, the predicted number of infected farms was on average 46.27 farms and 42.96 farms, respectively. We also demonstrated that the establishment of ring quarantine zones regardless of size (i.e., 5 km, 15 km) was outperformed by backward animal movement tracking. The proposed modeling framework provides an evaluation of ASF epidemic potential, providing a ranking of quarantine-based control strategies that could assist animal health authorities in planning the national preparedness and response plan.
Modeling the transmission and vaccination strategy for porcine reproductive and respiratory syndrome virus
134-Modeling the transmission and vaccination strategy for porcine reproductive and respiratory syndrome virus--(2021)
Galvis, J. A., Corzo, A.C., Prada, J., & Machado, G.*
Transboundary and Emerging Diseases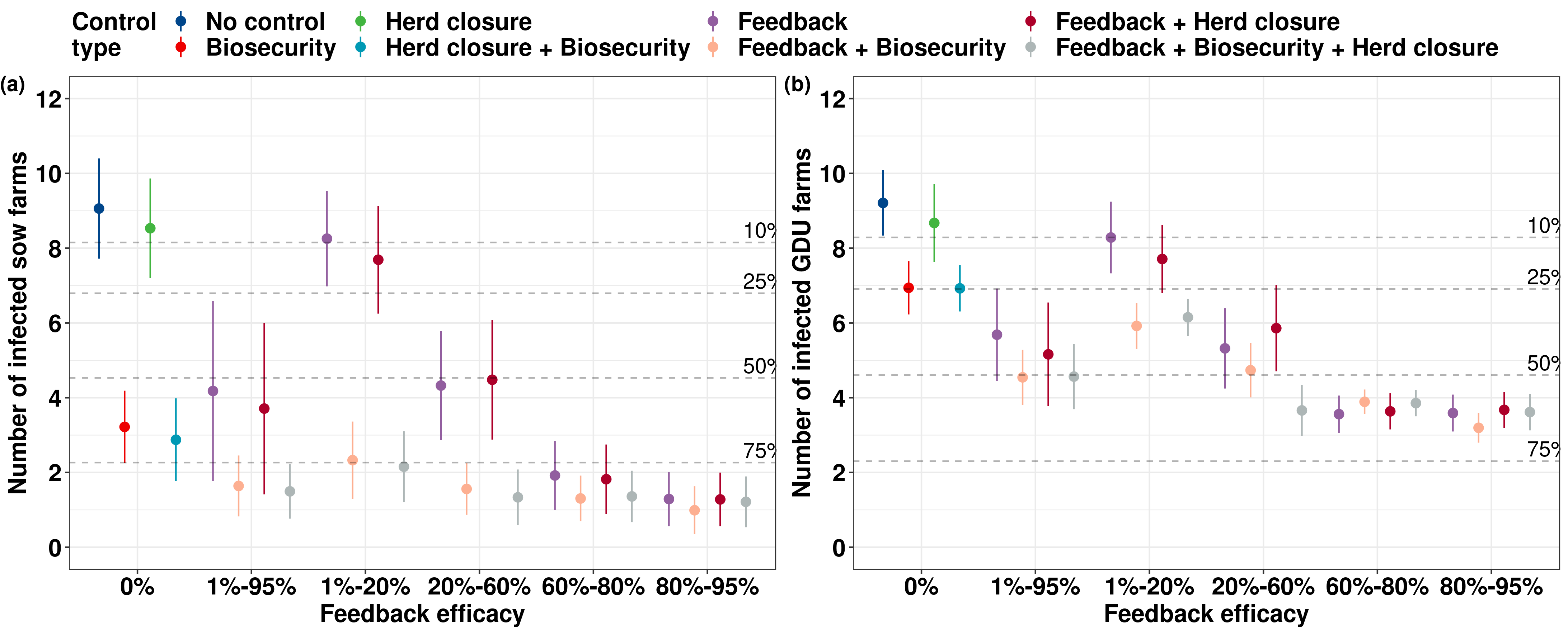 Summary: Many aspects of the porcine reproductive and respiratory syndrome virus (PRRSV) between‐farm transmission dynamics have been investigated, but uncertainty remains about the significance of farm type and different transmission routes on PRRSV spread. We developed a stochastic epidemiological model calibrated on weekly PRRSV outbreaks accounting for the population dynamics in different pig production phases, breeding herds, gilt development units, nurseries, and finisher farms, of three hog producer companies. Our model accounted for indirect contacts by the close distance between farms (local transmission), between‐farm animal movements (pig flow), and reinfection of sow farms (re‐break). The fitted model was used to examine the effectiveness of vaccination strategies and complementary interventions such as enhanced PRRSV detection and vaccination delays and forecast the spatial distribution of PRRSV outbreak. The results of our analysis indicated that for sow farms, 59% of the simulated infections were related to local transmission (e.g. airborne, feed deliveries, shared equipment) whereas 36% and 5% were related to animal movements and re‐break, respectively. For nursery farms, 80% of infections were related to animal movements and 20% to local transmission; while at finisher farms it was split between local transmission and animal movements. Assuming that the current vaccines are 1% effective in mitigating between‐farm PRRSV transmission, weaned pigs vaccination would reduce the incidence of PRRSV outbreaks by 3%, indeed under any scenario vaccination alone was insufficient for completely controlling PRRSV spread. Our results also showed that intensifying PRRSV detection and/or vaccination pigs at placement increased the effectiveness of all simulated vaccination strategies. Our model reproduced the incidence and PRRSV spatial distribution; therefore, this model could also be used to map current and future farms at‐risk. Finally, this model could be a useful tool for veterinarians, allowing them to identify the effect of transmission routes and different vaccination interventions to control PRRSV spread.
Quantifying the dynamics of pig movements improves targeted disease surveillance and control plans
132-Quantifying the dynamics of pig movements improves targeted disease surveillance and control plans--(2020)
Machado, G.* , Galvis, J. A., Lopes, F. P. N., Voges, J., Medeiros, A. A. R., & Cárdenas, N. C.
Transboundary and Emerging Diseases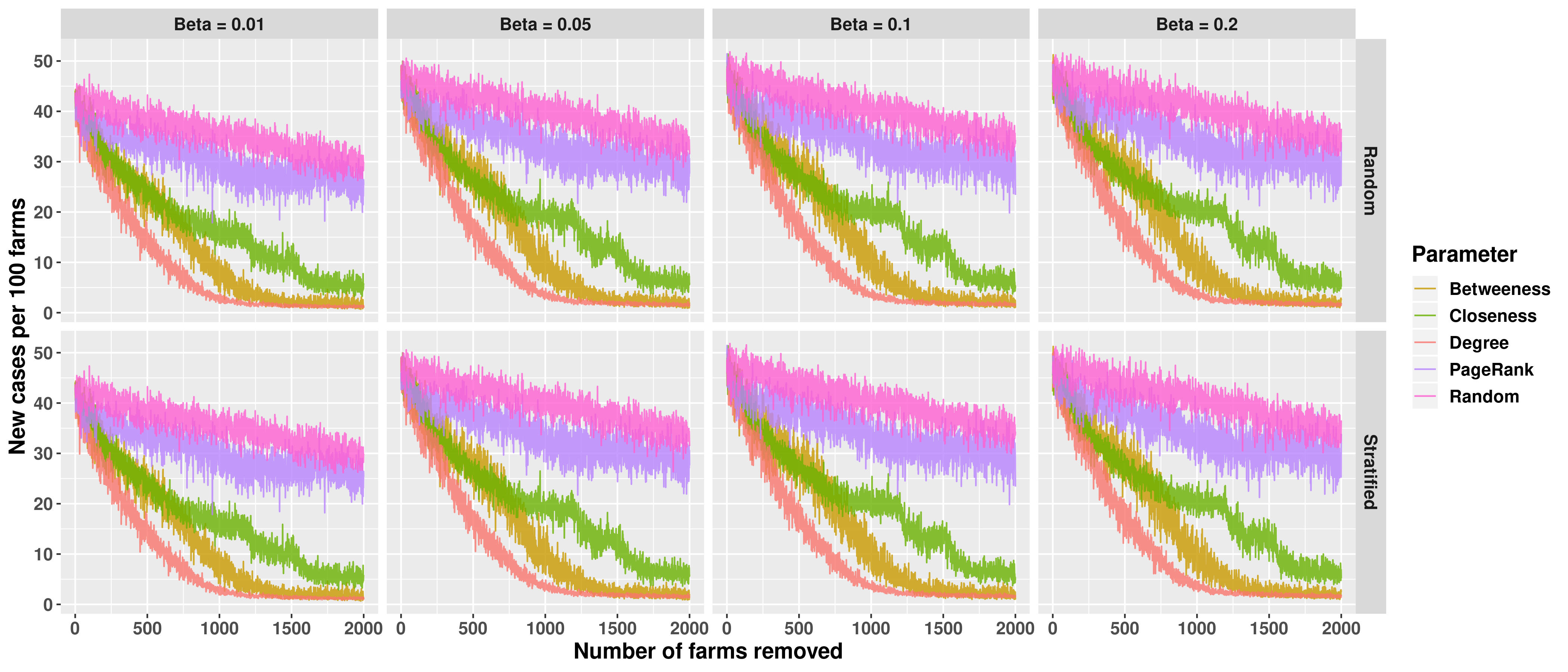 Summary: Tracking animal movements over time may fundamentally determine the success of disease control interventions. In commercial pig production growth stages determine animal transportation schedule, thus it generates time‐varying contact networks showed to influence the dynamics of disease spread. In this study, we reconstructed pig networks of one Brazilian state from 2017 to 2018, comprising 351,519 movements and 48 million transported pigs. The static networks view did not capture time‐respecting movement pathways. For this reason, we propose a time‐dependent network approach. A susceptible‐infected model was used to spread an epidemic over the pig network globally through the temporal between‐farm networks, and locally by a stochastic model to account for within‐farm dynamics. We propagated disease to calculate the cumulative contacts as a proxy of epidemic sizes and evaluate the impact of network‐based disease control strategies in the absence of other intervention alternatives. The results show that targeting 1,000 farms ranked by degree would be sufficient and feasible to diminish disease spread considerably. Our modelling results indicated that independently from where initial infections were seeded (i.e. independent, commercial farms), the epidemic sizes and the number of farms needed to be targeted to effectively control disease spread were quite similar; indeed, this finding can be explained by the presence of contact among all pig operation types The proposed strategy limited the transmission the total number of secondarily infected farms to 29, over two simulated years. The identified 1,000 farms would benefit from enhanced biosecurity plans and improved targeted surveillance. Overall, the modelling framework provides a parsimonious solution for targeted disease surveillance when temporal movement data are available.
Latest list
144-Multiple species animal movements: network properties, disease dynamic and the impact of targeted control actions–(2021)
Cardenas, N.C. ,Sykes, A.L., Lopes F.P.N., Machado,G.*–arXiv
143-Modeling between-farm transmission dynamics of porcine epidemic diarrhea virus: characterizing the dominant transmission routes–(2021)
Galvis, J.A., Corzo, C, Prada, J.M., Machado,G.*–arXiv
142-Unraveling the contact network patterns between commercial turkey operation in North Carolina and the distribution of Salmonella species–(2021)
Ellington, C., Hebron, C., Crespo., Machado, G.*–Pathogens
141-Modelling and assessing additional transmission routes for porcine reproductive and respiratory syndrome virus: vehicle movements and feed ingredients–(2021)
Galvis, J.A., Corzo, C, Machado,G.*–bioRxiv
140-MrIML: Multi-response interpretable machine learning to model genomic landscapes–(2021)
Fountain-Jones,N.M., Kozakiewicz,C.P., Forester,B.R., Landguth,E.L., Carver,S., Charleston,M., Gagne,R.B., Greenwell,B., Kraberger,S., Trumbo,D.R., Mayer,M., Clark,N.J., Machado,G.–Molecular Ecology Resources
139-Interpretable machine learning applied to on-farm biosecurity and porcine reproductive and respiratory syndrome virus–(2021)
Sykes,A.L., Silva,S.G., Holtkamp,J.D., Mauch,W.B., Osemeke,O., Linhares,C.L.D., Machado,G.*–Transboundary and Emerging Diseases
138-Development of a dissemination platform for spatiotemporal and phylogenetic analysis of avian infectious bronchitis virus–(2021)
Jara, M., Crespo, C., Roberts, D., Chapman, A., Banda, A., Machado, G.*–Frontiers in Veterinary Science
137-Modeling the role of mortality-based response triggers on the effectiveness of African swine fever control strategies–(2021)
Machado, G., Farthing, T., Andraud, M., Lopes, F.P.N., Lanzas, C.–Transboundary and Emerging Diseases
136-Impact of changes of horse movement regulations on the risks of equine infectious anemia: a risk assessment approach–(2021)
Machado, G., Corbellini, L.G., Frias-De-Diego, A., Dieh, G.N., Dos Santos, D.V., Jara, M. & de Freitas Costa, E.–Preventive Veterinary Medicine
135-The Potential Distribution of Pythium insidiosum in the Chincoteague National Wildlife Refuge, Virginia–(2021)
Jara, M., Holcomb, K., Wang, X., Goss, E.M.† & Machado, G.*†–Frontiers in Veterinary Science
134-Modeling the transmission and vaccination strategy for porcine reproductive and respiratory syndrome virus–(2021)
Galvis, J. A., Corzo, A.C., Prada, J., & Machado, G.*–Transboundary and Emerging Diseases
133-The between‐farm transmission dynamics of Porcine Epidemic Diarrhea Virus: A short‐term forecast modeling comparison and the effectiveness of control strategies–(2021)
Galvis, J. A., Prada, J., Jones, C., Corzo, A.C., & Machado, G.*–Transboundary and Emerging Diseases
132-Quantifying the dynamics of pig movements improves targeted disease surveillance and control plans–(2020)
Machado, G.* , Galvis, J. A., Lopes, F. P. N., Voges, J., Medeiros, A. A. R., & Cárdenas, N. C.–Transboundary and Emerging Diseases
131-Porcine reproductive and respiratory syndrome virus dissemination across pig production systems in the United States–(2020)
Jara, M., Rasmussen, D., Corzo, C. A., & Machado, G.*–Transboundary and Emerging Diseases
130-Nairobi Sheep Disease Virus: A Historical and Epidemiological Perspective–(2020)
Krasteva, S., Jara, M., Frias-De-Diego, A., & Machado, G.*–Frontiers in Veterinary Science
129-Phylogeography of Equine Infectious Anemia Virus–(2020)
Jara, M., Frias-De-Diego, A., & Machado, G.*–Frontiers in Ecology and Evolution
128-Information differences across spatial resolutions and scales for disease surveillance and analysis: The case of Visceral Leishmaniasis in Brazil–(2020)
Servadio, J. L., Machado, G.*, Alvarez, J., de Ferreira Lima Júnior, F. E., Vieira Alves, R., & Convertino, M.–PLOS ONE
127-The ecology of chronic wasting disease in wildlife–(2020)
Escobar, L. E., Pritzkow, S., Winter, S. N., Grear, D. A., Kirchgessner, M. S., Dominguez-Villegas, E., Machado, G.* , Soto, C.–Biological Reviews